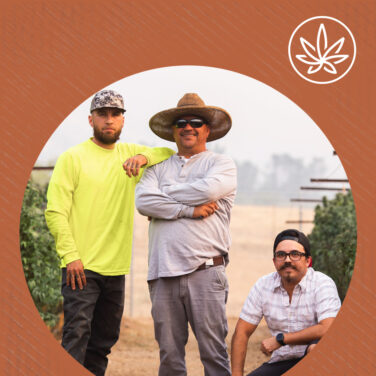 Moises Abarca and Family
JA Cannabis Cultivation
Rumsey, Yolo County
Social Media: instagram.com/jacultivation
About the farm
Moises Abarca and his family own JA Cannabis Cultivation, a medium-size outdoor cannabis farm in Yolo County with one acre of canopy. Moises handles the insurance, licenses, and compliance aspects of the business, while his brother, Emmanuel, manages the maintenance and upkeep and the company's social-media presence, and their father, Jose, deals with the day-to-day cannabis farming.
Jose was the first in the family to pursue work in the cannabis industry, and now that he is retired from his real-estate career, he calls this work "his sabbatical," says Moises. "Ultimately, his goal is to leave it to me and Emmanuel—for it to be a family legacy."
Moises also shares that his father has an "old school" approach to farming. "He doesn't use any of the high-tech approaches the larger farms use. He is self-taught and really enjoys working with cannabis," says Moises. "There is something really special about the passion he brings to this farm."
Commitment to the legal market
"My father was motivated to become a licensed cannabis farmer because he has always tried to do everything correctly," Moises says. His father, Juan, grew up in Michoacán, Mexico, and became a United States citizen at age 27, working in construction and eventually in real estate for most of his career. "He is invested in the American Dream, and that has manifested in his work in the legalized cannabis industry," Moises says.
Moreover, having the support of law enforcement has made all of the difference for Moises and his family. In their first year at the farm, they experienced some significant theft, "and that same day, my dad was able to go to the sheriff's office and, ultimately, everything was returned to us," Moises says. "Being a licensed cultivator has really helped us develop a positive relationship with the sheriff's office and that means a lot to us."
Proud to be a licensed grower
Moises is proud of the work they do and wants people to understand the licensed cannabis industry is different from the stereotypes they have seen of cannabis growers, especially before it was legalized in many states. "I spoke at a local community meeting recently because I want people to see how hard we work to remain compliant and run a business," Moises explains. "We care about this community just as much as the other local farmers and organizations, and we want to contribute to it through our work."
Moises and his family are proud of their contributions to the community, and they have formed relationships with the other Capay Valley farmers. "There is only one road, so everyone runs into each other," Moises says. "My dad knows all of our neighbors and it has made a huge difference to be surrounded by such an established agricultural community."
Juan and his sons have collaborated with local farmers on the best soil practices and other techniques for growing their crops by using traditional, cost-effective methods. "It's about keeping it simple and creating the best possible product," Moises says.