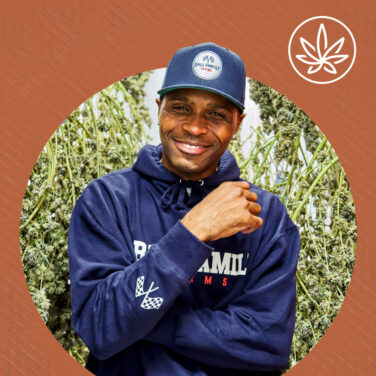 Chris Ball
Ball Family Farms
Los Angeles, Los Angeles County
Website: ballfamilyfarms.com
Social Media: Instagram | Facebook
About the farm
Chris Ball is an owner and operator of Ball Family Farms, a 40,000-square-foot indoor hydroponic cannabis facility in Los Angeles.
Ball Family Farms received its local cultivation license in 2018 through the city of Los Angeles's social-equity program, and received its state cultivation license shortly thereafter. Ball Family Farms is one of the first minority-owned social-equity commercial cannabis facilities in Los Angeles.
Ball got into the cannabis cultivation industry through the traditional market while playing football for the Canadian Football League. "At that time, Canada was cultivating some of the best cannabis in the world," Ball said. "When I realized I could grow my own cannabis instead of moving other people's products, I was hooked."
With no prior knowledge of the craft, Ball began to study botany and other topics necessary to become a successful cannabis business operator. Priming for California's emerging legal cannabis market, he acquired a 5,000-square-foot cultivation warehouse—with only 14 lights in one small room. He brought in logistical expertise for the next three years and quickly transformed the little 14-light room into a full-fledged 60-light grow facility.
Commitment to the legal market
Ball believes the business of legally growing cannabis has many benefits. "I'm so passionate about cultivating, and it gives me great comfort not to have to look over my shoulder," Ball said. "Because I am a legal grower, the most significant cultural benefit is that I can get the best possible product to the consumers who need it for medical or recreational purposes."
Ball also thinks promoting a safe and robust legal marketplace destigmatizes cannabis, allowing people from all walks of life to come forward and be open to understanding the benefits of tested cannabis products.
Proud to be a licensed grower
"We are very proud that Ball Family Farms was one of the first licensed, minority-owned, social-equity commercial cannabis facilities in Los Angeles," Ball said, beaming.
Ball looks forward to exploring his passion for cannabis farming and hopes all legally licensed growers continue to spark competition, ultimately providing the best products to the consumer. "Our passion and our competitive nature in this space is driving us to make the product better and better as time moves on," Ball added.
Ball wants others to know that commercial, indoor cannabis farming is no easy task and success often means learning from one's mistakes. "The more the public understands what it takes to grow a quality product, the more they will respect the cannabis industry as a whole."