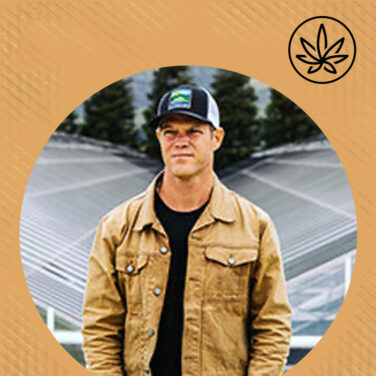 Graham Farrar
Glass House Farms
Carpinteria, Santa Barbara County and Camarillo, Ventura County
Website: glasshousefarms.org
Social Media: Instagram
About the farm
Graham Farrar is the Co-founder, President and Boardmember of Glass House Brands which operates Glass House Farms, located along the California Central Coast. He operates 3 greenhouses totaling 20 acres of cannabis. Farrar launched Glass House Farms in 2015 when Proposition 215—the Compassionate Use Act of 1996, California's medicinal cannabis law—was in effect. He had purchased the Glass House greenhouses from former cut-flower growers. After Californians passed the Adult Use of Marijuana Act in 2016, which legalized recreational cannabis, Farrar began the process of applying for a commercial cultivation license.
Farrar says he uses a "premium at scale" model to grow and produce quality cannabis strains year-round. "We take the art and love of that we have for the plant and scale that up to serve one of the largest and most demanding groups of consumers in the world—California cannabis consumers," he says. "They want high-end, artisan strains, with consistent quality, all the time."
Currently, about 40 percent of his flower is sold under the Glass House Farms label, and 60 percent is sold wholesale.
Farrar grew up in Santa Barbara County and studied molecular biology and biochemistry in college. After college, he got into the tech side of cannabis cultivation through marketing and selling a variety of products to support the industry, including fertilizers and growing systems.
Benefits of the legal market
Farrar believes the legal cannabis cultivation market provides licensed growers with protection. "One of the great benefits of being licensed, which I did not anticipate, is the relationship we've built with the Santa Barbara County Sheriff's Office," Farrar said. Glass House is visited regularly by staff from the sheriff's office because they want to learn more about the cultivation process. "As a licensed grower, it's nice not to have to be afraid of them, and to actually have them on your side should an issue arise."
Proud to be a licensed grower
Farrar is a long-time believer in the benefits of cannabis and the positive impacts it can have on society. He believes community involvement is the key to succeeding as a small business owner. Farrar regularly speaks at county planning meetings and Board of Supervisors meetings and is a founding member of the Carpinteria Association of Responsible Producers (CARP). During the height of the pandemic, CARP created a fundraising program to help the Santa Barbara County economy, with the goal of raising money to support local food banks and other nonprofits in Carpinteria.
"I'm proud to be employing people, proud of our contributions to the community, and proud to be keeping our local agricultural economy alive," Farrar said. "From a hyper-local sense, it is money coming into our local economy. As a local boy, that feels good."