The Department of Cannabis Control (DCC) issued a mandatory recall on January 26, 2022, for one batch of cannabis flower contaminated with Aspergillus niger.
Affected product information:
Brand: Claybourne Co.
Strain: Head Banger
Product: Cannabis flower, various size jars
UID Number: 1A406030000326B000094476  
Batch Number: 28090621HB 
Dates sold: November 2, 2021 until January 26, 2022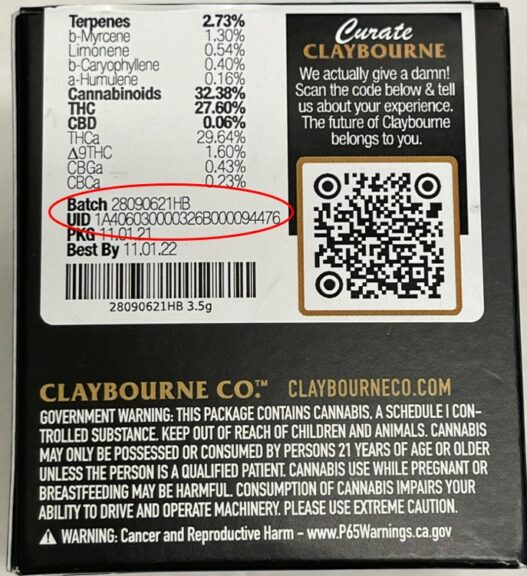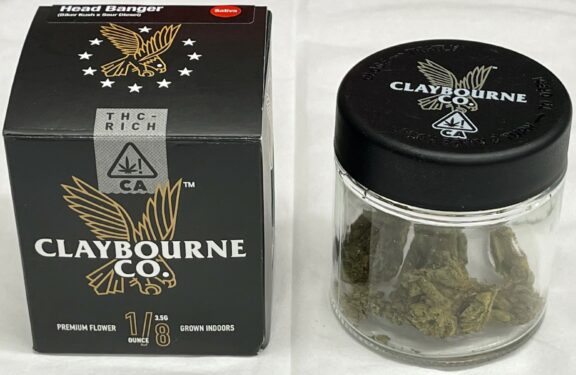 What consumers need to know
If you purchased Claybourne Co. Head Banger flower during the affected timeframe:
Check your packaging for the UID and batch numbers listed above.
If the numbers match: dispose of the product or return it to the retailer.
Contact your physician immediately if you consumed this product and experience adverse reactions.
According to the Centers for Disease Control and Prevention (CDC), most people breathe in Aspergillus spores every day without getting sick; however, people with weakened immune systems or lung diseases are at a higher risk of developing health problems due to Aspergillus.
What licensees need to know
DCC sent notices to all licensees with this product in their inventory with instructions about responding to this recall. Contact our team at recalls@cannabis.ca.gov if you have any questions.
You can request permission to remediate products affected by this recall. The manufacturer or microbusiness that will perform the remediation must submit a corrective action plan to recalls@cannabis.ca.gov.
Where the recalled product was sold
Alameda County

Embarc Alameda – 1616 Webster Street, Alameda CA 94501
Foggy Daze Delivery (Delivery)
Ganja Goddess (Delivery)
The Diamond Bonsai (Delivery)
Contra Costa County

Velvet Cannabis – 4808 Sunrise Drive, A Suite, Martinez CA 94553
Fresno County
Imperial County

NHHY Enterprises, Inc (Delivery)
Los Angeles County

The Marijuana Factory – 9155 N Deering Ave, Chatsworth CA 95311
Sunrise Caregiver Foundation, LLC – 22865 Lockness Ave, Torrance CA 90501
Cannary West – 2435 Military Ave, Los Angeles CA 90064
California Alternative Caregivers – 122 Lincoln Blvd, Venice CA 90291
Natural Remedies Caregivers – 927 1/2 North Western Ave, Los Angeles CA 90029
MMD North Hollywood – 4720 Vineland Ave, North Hollywood CA 91602
Green Cross of Torrance – 1658 Carson St W, A-C, Torrance CA 90501
4th Street Collective, Inc. – 1248 Long Beach Blvd, Long Beach CA 90813
Fountain of Wellbeing Inc. (Delivery)
GE United Technologies, LLC (Delivery)
Ganjarunner (Delivery)
Orange County

Tropicanna – 1628 S Grand Ave, Santa Ana CA 92705
People's OC – 2721 S Grand Ave, Santa Ana CA 92705
Riverside County

The Leaf – 73740 El Paseo, Palm Desert CA 92260
Reefer Madness LLC – 4693 Ramon Rd, Palm Springs CA 92264
Sacramento County

Valley Health Options Collective, Inc. – 1421 Auburn Blvd, Sacramento CA 95815
Primetiming LLC (Delivery)
Budee, Inc. (Delivery)
San Bernardino County

Captain Jacks – 100 W Hospitality LN, San Bernardino CA 92408
San Diego County

THCSD – 3703 Camino Del Rio S, Suite 215A, San Diego CA 92108
San Diego Recreational Cannabis SDRC – 1233 Camino Del Rio South St, San Diego CA 92108
A Green Alternative Cooperative Inc. – 2335 Roll Dr, San Diego CA 92154
Off the Charts – 1745 E Vista Way, 7-10 Suite, Vista CA 92084
MedLeaf LLC (Delivery)
Grasshopper Delivery (Delivery)
Santa Clara County
Solano County

Dixon Wellness Collective – 1150 N 1st St, Suite B, Dixon CA 95620
Sonoma County

Down under Industries, Inc. – 50 Ely Rd N, Petaluma CA 94954
Jane Dispensary – 2074 Armory Dr, Santa Rosa CA 95401
Tulare County

GreenBean – 515 W Naranjo Blvd, Woodlake CA 93286
Token Farms – 483 Noble Ave, Farmersville CA 93223
Ventura County

Safeport – 353 W Channel Islands Blvd, Port Hueneme CA 93041
Tree Factory – 437 W Channel Islands Blvd, Port Hueneme CA 93041
Questions and answers
What is aspergillus? 

Aspergillus is a common type of mold (a microscopic fungus) that can grow on plants, fruit, nuts, cereals, oilseeds or cannabis.

Most people breathe in small amounts of Aspergillus spores every day without getting sick. In rare cases, Aspergillus can cause health problems, including an infection called aspergillosis.
How do I know if I am sick with aspergillosis? 

Learn about symptoms of aspergillosis, an infection caused by Aspergillus.

If you are experiencing any of these symptoms, please consult your physician. Be ready to report your symptoms and your cannabis product use for diagnosis of any infection.
How can I tell if the cannabis I have is part of the recall? 

Cannabis products are required to have identifying numbers on the label. If you purchased Claybourne Co. Head Banger cannabis flower between November 2, 2021 and January 26, 2022, look at your product packaging. If the UID number is 1A406030000326B000094476, it is part of this recall.

Refer to the photos above for an example of affected product packaging.
How do I clean areas where this product was stored?  

Clear off the space and wash it with hot soapy water or sanitizing solution. Let it air dry. You can also wipe the surface with a diluted bleach solution: mix 1 TBSP unscented, liquid chlorine bleach with 1 gallon of water.
The cannabis I have is not part of this recall. How can I tell if my cannabis has aspergillus? 

The presence of aspergillus in cannabis can only be positively identified through laboratory testing. Only cannabis and cannabis products purchased at a licensed retailer have gone through regulatory compliance testing, including testing for the presence of Aspergillus.

Find a licensed retailer using our online search tool.
What is a recall? 

Recalls are used to remove defectively or potentially-harmful products from the marketplace. Cannabis businesses can voluntarily conduct a recall. DCC can also order a mandatory recall if a product may cause consumers to become ill.
Resources
Press release: DCC orders recall of packaged cannabis flower due to mold contamination
Learn more about cannabis recalls.